SPECIFICS
ABOUT THE PROGRAM
Unfortunately, there are still people who believe that anxiety is simple. A feeling of nervousness, worry and fear of ordinary events. However, if you have anxiety yourself, you know that it's much more complicated than that, isn't it?
Not only are those feelings difficult to manage but they also lead to physical symptoms. These include increased heart rate, chest tightness, rapid breathing (hyperventilation), dizziness, stomach pain, shaking, sweating, and many more unpleasant bodily sensations.
Managing them on a daily basis can be challenge, especially if you don't know why you are having them and what to do to decrease their intensity and frequency.
The aims of this program are to help you understand your anxiety better and to learn practical techniques to relieve its physical symptoms. It is solely based on Cognitive Behavioural Therapy (CBT) for anxiety disorders. CBT is the most widely-used therapy in the world due to its clinically-proven effectiveness. It's even recommended by the National Institute for Health and Care Excellence (NICE), who provide guidance for the UK National Health Service (NHS) on the most effective ways to treat health-related problems.
In just one sitting or a few, you will learn fundamental CBT theory, skills and tools for gaining control of your anxiety, which is equivalent to 3 one-to-one CBT treatment sessions.
This includes:
Understanding your anxiety triggers & maintenance factors.
Using knowledge and skills to recognize early warning signs, to minimize setbacks and to maintain your gains.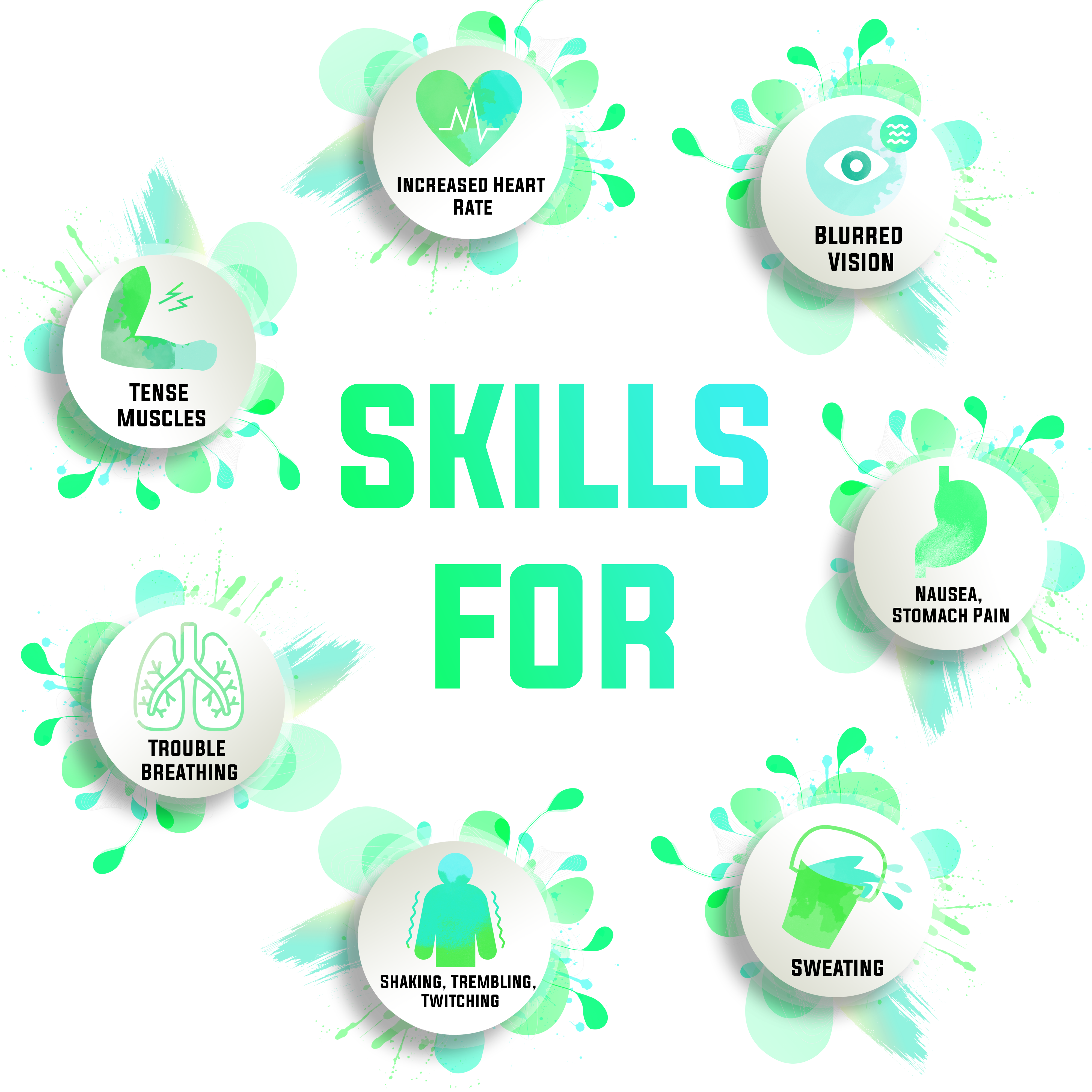 The following questions would help you decide if
this program is right for you:
Do you often feel anxious, nervous or restless?
Do you experience any of the following physical symptoms when you are anxious: racing heart, trouble breathing, trembling or sweating?
Do you find it difficult to manage those physical symptoms?
If you answered ''Yes'' to any of those questions
the program would be perfect for you.
WHAT OUR CLIENTS SAY?
Slowly working my way through it; I never want it to end. Thus far, it's been incredibly helpful and unlike any service or therapy I've had before. I can pick up the program as and when it suits, which fits in with my busy commuter lifestyle. It's just a very refreshing take on well-being support. Through your communication, expertise and sincerity, it is a lovely, personal experience. I am excited to continue the program and try some of the physical activities.
I can confidently say that i understand anxiety and what brings about anxiety. It has been of great help to me and would strongly recommend to those who may have anxiety symptoms once in a while. Thank you for your many proven techniques of managing anxiety symptoms. Your action plan will help in a great way in managing anxiety and live a more happy assuring life. Thank You for dedicating your time to work on the most detailed anxiety work book out there. I would strongly recommend other to work with you. God bless.
I finished just now and I am happy with this course. Thought I knew why I was feeling down and anxious but the vicious cycle explanation really opened my eyes and made me reflect upon my own thoughts which cause me anxiety. You're definitely a pro who's inspiring and passionate about helping others. The program is definitely worth the money.
GAIN CONTROL OVER YOUR SYMPTOMS
After completing this program you will be able to
Decrease your anxiety significantly
Understand why your physical symptoms appear and what to do to about them
Feel confident in your ability to manage your anxiety in any situation
Use variety of scientifically proven skills to prevent and manage physical symptoms
Employ an evidence-based step-by-step plan to overcome anxiety in the long-term
Understand what triggers your anxiety
Understand what keeps your anxiety going
Understand the connection between your thoughts and anxiety
EFFECTIVENESS OF CBT FOR ANXIETY
Many clinical trials and meta-analyses have shown CBT to be very effective in treating anxiety disorders (Norton & Price, 2007; Hoffman & Smits, 2008; Stewart & Chambless, 2009) and to produce longer-term maintenance of treatment gains (Borkovec & Ruscio, 2001; Otto, Smits & Reese, 2004; DiMauro et al., 2013). Research has also shown that CBT delivers significantly greater improvement in anxiety symptoms than supportive counselling (Barrowclough et al., 2001).
In recent years clinicians have introduced Computerised Cognitive Behavioural Therapy (CCBT) which is a practical and user-friendly self-help interactive computer program that guides you through the principles of CBT over a course of couple of months. Clients learn to develop their own therapy skills at their own time and space. Studies comparing CCBT with traditional face-to-face CBT have demonstrated its significant clinical efficacy in the treatment of anxiety disorders (Proudfoot et al., 2004). One meta-analysis even found that both CBT and CCBT are equally beneficial and clients' improvement is maintained for a median of 26 weeks follow-up (Andrews et al., 2010).
In view of all of this valuable evidence, SelfCareSkills uses CBT to design each program. In contrast with CCBT, we chose to deliver our material through pre-recorded video sessions with a National Registered CBT Therapist rather than using a computerised text only. This is because we want to deliver the valuable material in a more personal way which allows clients to understand and implement the knowledge more effectively.
WHAT OUR CLIENTS SAY?
Very happy with the service as I learned things I didn't know like anxiety is a mixture of perception of threat and my own negative beliefs. The structure is great: you learn and understand then she tells you how to fix it. Practice was a challenge at first I must admit but as she said the more you do it the more it feels like second nature. Great experience 5 stars.
I enjoyed it a lot. The programs includes many more things than I initially thought. I was expecting to learn some simple skills to manage the symptoms but she actually explained why they happen in the first place. I appreciate that a lot because I now feel ok knowing what might have cause me anxiety and what I should do to stop it.
This was so incredibly helpful, Izabel! I learned some things that I did not even learn in my past therapy sessions. One thing I do recommend is to maybe provide captions on your videos you speak well, but some people may prefer them! I can't wait to see what the "I'm not my thoughts" module is like, I suffer from pure OCD so I have a feeling it will really benefit me and my disorder!
GAIN CONTROL OVER YOUR SYMPTOMS
Course Curriculum
Introduction
Available in days
days after you enroll
Module 1: Understanding Anxiety
Available in days
days after you enroll
Module 2: Managing Anxiety Symptoms
Available in days
days after you enroll
GAIN CONTROL OVER YOUR SYMPTOMS
Izabel Nedeva
Your Therapist
This program is written, designed and facilitated by Izabel Nedeva, a licensed Cognitive Behavioural Therapist who specializes in the treatment of anxiety disorders. She has gained a professional registration with the British Association for Counselling and Psychotherapy (registration number: 376943) and a provisional accreditation with the British Association for Behavioural and Cognitive Psychotherapies (BABCP; accreditation number: 170598). Apart from providing individual therapy in London and online, Izabel has been successfully facilitating group treatments, webinars and workshops. This inspired her to create selfcareskills.com and to make her program available to individuals worldwide.

Instagram
WHAT OUR CLIENTS SAY?
Hi Isabel hope you are well :):) I just wanted to say thank you for messaging me about the anxiety relief program. I just finished it and I enjoyed it very much. I've been struggling with anxiety for 4-5 years and i wasnt (still i am not) able to pay for therapy even though I want help. I appreciate all your wise words and guidance and I am looking forward to trying the techniques. Keep doing what you are doing. I am sure you are making such a big difference in many people's lives and thank you. Hugs
I want to thank you so much the program is WONDERFUL! I enjoyed how you explained anxiety and why it happens. How the mind is so powerful to give you physical symptoms. Also the techniques were explained very well. You have a wonderful program especially when a person is so lost in what to do for their anxiety. Highly recommend you! I enjoyed your program very much. It was also nice to share with my family what anxiety is and how it's a real thing. Since at times we don't have ways to explain to our families. It's very helpful how you include worksheets and recordings because it makes the homework easier. I am going to practice this for two weeks!
5 starts program all the way-you are knowledgeable inspiring & I enjoyed how you explained everything so clearly. You have a soothing voice also. I understand now what triggers my physica symptoms & I will use the techniques to manage them. My fav one has to be safe place imagery. Looking forward to your next program (y).
GAIN CONTROL OVER YOUR SYMPTOMS
Video Testimonials
GAIN CONTROL OVER YOUR SYMPTOMS
Frequently Asked Questions
Can I use PayPal to purchase the program?
Yes, you can. We accept both PayPal and card payments. Once you click on the ''Start Now'' button you will be directed to the checkout page. There you will see the '' Payment Method'' section. Click on the small arrow on the right to reveal the drop down list. You will see the PayPal option there.
When does the program start and finish?
This program is completely self-paced. You decide when you want to start and finish. After enrolling, you will have access to all 3 modules, all video sessions and your action plan worksheets. Most clients complete this program within couple of days.
What's the difference between one-to-one CBT and an online CBT program?
The beauty of the online video Cognitive Behavioural Therapy (CBT) programs is in their power to provide the same knowledge and skills others learn in one-to-one treatment but for an affordable price. Of course the main difference between one-to-one CBT and online CBT program is lack of opportunity for the client to share and engage in powerful dialogue with his/her therapist. But! This does not necessarily mean that clients cannot accomplish their mental health goals from home. Many studies have shown that self-directed CBT can be very effective (e.g.
Study 1
,
Study 2
,
Study 3
,
Study 4
). Keep in mind that our current anxiety program and all the upcoming ones are in fact directed. This means that clients receive video guidance by licensed professionals which increases the likelihood of effectiveness.
Can I pick which module I start with?
Generally speaking, you can because you have access to all materials. However, I would advise you to follow the structure of the program and watch all videos in sequence. All of our programs are designed to help you build up knowledge, just like we do in one-to-one therapy. Think of this as a ''self-development ladder'' – you cannot reach the 3rd step if you don't go through step 1 and 2 first.
What happens after I finish the program?
The main aim of CBT and our programs is to teach you how to become your own therapist by learning clinically-proven knowledge & skills that you can continue to practice on your own after you finish the program. The first two modules (understanding anxiety; managing anxiety) will help you get the knowledge and skills, whereas the final module (your action plan) will explain how to apply them to your daily life. So you would be finishing the program knowing exactly what to do to manage your anxiety symptoms in a challenging situations.
How long will I have access to the program, its videos and materials?
After enrolling you have lifetime access to this program and all of its materials, including the videos and the worksheets, which you can revisit any time you want.
TRUST IS IMPORTANT
30-day, no-questions-asked money back guarantee if you are not satisfied with the program.Read more here
Safe & Secure PayPal checkout available as well as Debit/Credit card payment, which is secured by a 128-bit SSL encryption.